Don't just be a male. Be a man. Be a GreatMan.
True manhood is in decline in our generation. Our society has deformed masculinity, leaving most men unfulfilled and far from the impact they were made for. GreatMan will help you fight the battles of your life, the battles you must fight to be the man you are meant to be.
Start by doing these 3 things:
Listen to the GreatMan Podcast

Subscribe to the GreatMan Digest
When you sign up for the GreatMan Digest, you'll also get a free copy of Stephen's popular article "Seventy-Seven Ways To Be A GreatMan."
Latest from the GreatMan Podcast
admin
Have you heard the story of the Pilgrim Thanksgiving, the one that has inspired the American holiday? Men, this story (originally aired on the Stephen Mansfield Podcast) can shape destines. Gather the family and enjoy [...]
GreatMan Toolbox
Mansfield's Book of Manly Men – $19.99

Building Your Band of Brothers – $10.00

GreatMan Video Course – $19.95

Band of Brothers Audio Course – $19.95

GreatMan Wristband – $5.00

BONUS Manly Men Discussion Guide – $10.00 value

BONUS Building Your Band of Brothers Discussion Guide – $10.00 value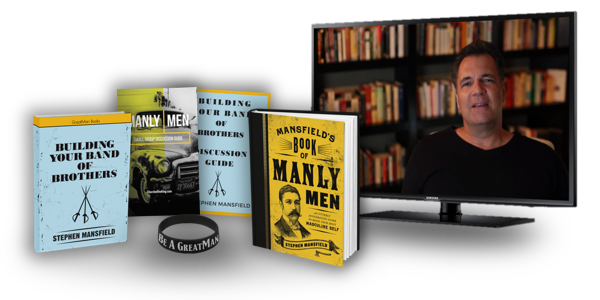 All this for only $47! That's a 50% discount!
Start gathering the men in your community to help them become Great Men!
Coaching
Do you need some hard-hitting, focused coaching to help you become the man you are made to be? Well, JT McCraw is the best life coach we know. He has years of experience in moving men to the next level of noble manhood. You can listen to his appearance on the GreatMan Podcast and contact JT here. Take the bold step of getting the help you need to be a GreatMan.
"…a blueprint for true manhood, building upon stories from the world's greatest men—one of whom was my great-grandfather, Winston Churchill."
"…takes the bold, potentially offensive step of calling men to be men again. It's about time!"
"In a culture where authentic masculinity is often buried beneath myriad counterfeits and stereotypes [this] vision of manhood is a refreshing and challenging ideal."
"Buckle your chinstrap…because it is truth and its challenge will hit you as you've never been hit."
"You will be changed for the better and inspired to be the man you want to be—the man God intended you to be."