Don't just be a male. Be a man. Be a GreatMan.
True manhood is under attack in our generation. Our society has deformed masculinity, leaving most men unfulfilled and far from the impact they were made for. GreatMan will help you fight the battles of your life, the battles you must fight to be the man you are meant to be.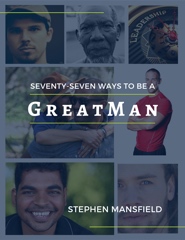 Start by doing these 3 things:
Listen to the GreatMan Podcast

Subscribe to the GreatMan Digest
Get the GreatMan Digest in your inbox each week for everything GreatMan and get "Seventy-Seven Ways To Be A GreatMan" as a bonus.
Latest from the GreatMan Podcast
admin
Stephen Paddock, the killer who murdered dozens from the 32nd floor of a hotel in Las Vegas, was well-off with seemingly no complaints in the world. And yet he carried out the worst mass shooting [...]
GreatMan Toolbox
Mansfield's Book of Manly Men – $19.99

Building Your Band of Brothers – $10.00

GreatMan Video Course – $19.95

Band of Brothers Audio Course – $19.95

GreatMan Wristband – $5.00

BONUS Manly Men Discussion Guide – $10.00 value

BONUS Building Your Band of Brothers Discussion Guide – $10.00 value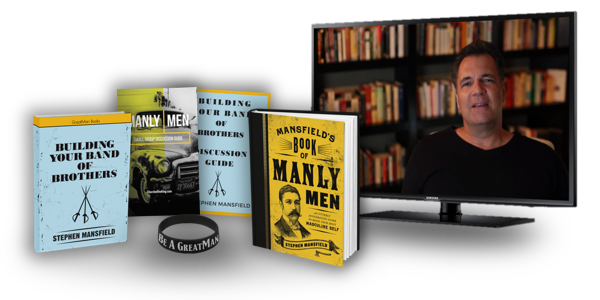 All this for only $47! That's a 50% discount!
Start gathering the men in your community to help them become Great Men!
"…a blueprint for true manhood, building upon stories from the world's greatest men—one of whom was my great-grandfather, Winston Churchill."
"…takes the bold, potentially offensive step of calling men to be men again. It's about time!"
"In a culture where authentic masculinity is often buried beneath myriad counterfeits and stereotypes [this] vision of manhood is a refreshing and challenging ideal."
"Buckle your chinstrap…because it is truth and its challenge will hit you as you've never been hit."
"You will be changed for the better and inspired to be the man you want to be—the man God intended you to be."